Dealhub
Revenue Amplification driven by the leading CPQ & CLM
DealHub enables Sales teams to build and maintain engaging and personalized dialogue with their buyers throughout the sales processes. DealHub's Revenue Amplification Platform (RevAmp) incorporates enterprise-grade CPQ, CLM, Subscription Management, Predictive Sales Playbooks, Digital DealRooms and e-Signature in one complete sales platform. Utilizing AI-based buyer engagement analytics, derived from actual customer touches, RevAmp is able to uncover previously unattainable buyer disposition, behavior and intent that most effectively drive deals to success.
Quick Facts
Founded 2014
Partnered May 2021
Industry Sales Solutions
CEO Eyal Elbahary
HQ In Holon, Israel

The Israeli startup aims to combine enterprise-grade CPQ, Subscription Management, Contract Lifecycle Management and Digital DealRooms into one unified,...
June 14, 2022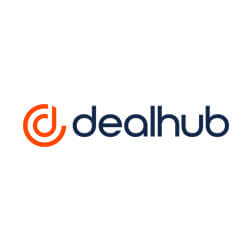 Demand for category-defining Revenue Amplification, powered by CPQ, CLM and Digital DealRooms, drives DealHub's second consecutive year of 3X...
June 1, 2021